GIVE HOPE. HONOR COURAGE. CARRY A BEAD.
Carry a Bead and inspire a child to stay strong in their fight for life.
WHAT IS CARRY A BEAD?
The Beads of Courage Carry a Bead program offers an easy and fun way for individuals, groups and teams to support children coping with serious illness. It is a simple act of human caring and compassion that anyone can do – children and adults alike!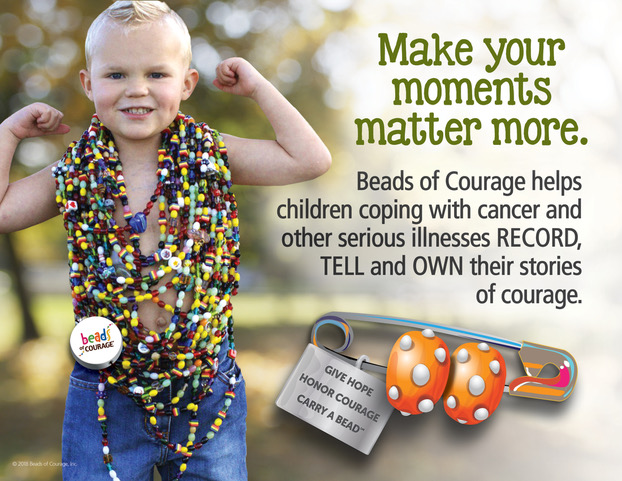 CARRY A BEAD KITS
Kits ideal for individuals, partners, or small groups to Carry a Bead.
WHAT HAPPENS TO THE BEADS I CARRY?
Your compassion, love and good intentions are infused into the beads you carry and return, which will be packaged with a handwritten note card and given to a child coping with cancer or another serious illness.
The child will add the bead to their Beads of Courage strand as an ever-present reminder that someone is thinking about them, fighting alongside them, and honoring their amazing courage.
HOW DOES CARRY A BEAD HELP?
Remember, the children and teens we support are hospitalized for long periods of time. When you Carry a Bead, you share a special place you've been or a fun experience you've had with a child needing a boost of encouragement on a tough treatment day. No experience is too big or too small to Carry a Bead.
The funds raised from the Carry a Bead program support our mission of hope and healing for children coping with serious illness through our arts-in-medicine programs. Thank you for being part of Team Beads of Courage!
CARRY A BEAD BUNDLES FOR GROUPS/TEAMS
Our specially priced Carry a Bead Group Kits ($125 for 25 people – $5pp) provide the perfect opportunity for your group or team to bond over the rewarding experience of encouraging children coping with serious illness when you Carry a Bead together. Each Carry a Bead Group Kit contains everything you need including easy-to-follow instructions.
Choose your team or group color too! All funds raised support Beads of Courage.
Both children and adults can Carry a Bead! For example:
Youth Sports Team
Scout Troops
School Bands
Cheer Squads
Church Groups
Civic Organizations
Businesses
Sororities & Fraternities
College/Semi-Pro/Pro Sports Teams
Police and Fire Departments
CARRY A BEAD TESTIMONIALS
Every time you carry a bead, you encourage kids like Alex and Zachary to stay strong and keep fighting!
Alex
Beads of Courage member Alex received a bead that was carried by Sarah Tierney of Merrimack College. Her encouragement note reads, "I wore this bead in my race today! Stay strong! I am thinking of you!!! Keep fighting – you rock!"
Alex sent us a thank-you note which says: "Thank you for my Carry a Bead. It's really cool that you carried it in your race! I hope you did well. Thanks for carrying beads for kids like me. Here's a picture of me wearing your bead. It's the blue one with yellow polka dots right in the middle of all the beads I earned in November."
Zachary
Zachary received a bead that was carried by Katlyn Jablonski of Kallispell, Montana, who carried her beads in a logging competition! On her encouragement note, Katlyn wrote, "I am nowhere near as brave as you, but I hope my adventure could make you smile!"
Zachary's mom shares, "This is Zachary. He is 15 years old. I adopted Zach at birth. He developed autism at age 3 and Lennox-Gastaut Syndrome at age 7, which is a deadly epileptic disorder. He is failure to thrive, so he has a GI tube."
"Zach just received a Carry a Bead to carry along on our rough days. The bead was carried in his honor. It had its own journey and now it is joining Zach on ours. This bead is for strength."