Bead strong
Encouraging anyone to pause, breathe and learn about mindfulness as an important life skill.
The Beads of Courage® Bead Strong Program was created to provide an experience in mindfulness. Mindfulness is achieved when an individual is able to calmly focus, be aware and accept one's own thoughts and feelings. Each Bead Strong activity uses several different tools including mantras, art, breathwork and beads.
Mantras are short phrases or words that one can say to help calm the mind and stay positive in the midst of challenges. They can be helpful in dealing with anger, frustration or anxiety.
Art provides for self-expression and when facilitated can help an individual process and reflect on life experiences in a meaningful way.
Breathing and being taught breathwork techniques are very useful in situations to calm the mind with both physiological and emotional benefits.
Beads are the earliest art form known to humans and have been a valuable object for over 100,000 years. The beads that are used in Bead Strong become symbolic reminders to the participants of their feelings, thoughts and experiences during the activity.
Purpose
The purpose of the Beads of Courage Bead Strong Program is to provide an experience in mindfulness. Each Bead Strong Activity is unique, and adults and children alike can share in this experience. Each Bead Strong activity incorporates a reflective art directive to support psychosocial and emotional well-being of anyone receiving care for an illness, their families and friends, as well as the clinicians who support them. Adults and children alike can share in this experience. Our Bead Strong activities cover themes related to illness, change, grief and bereavement, siblings and more.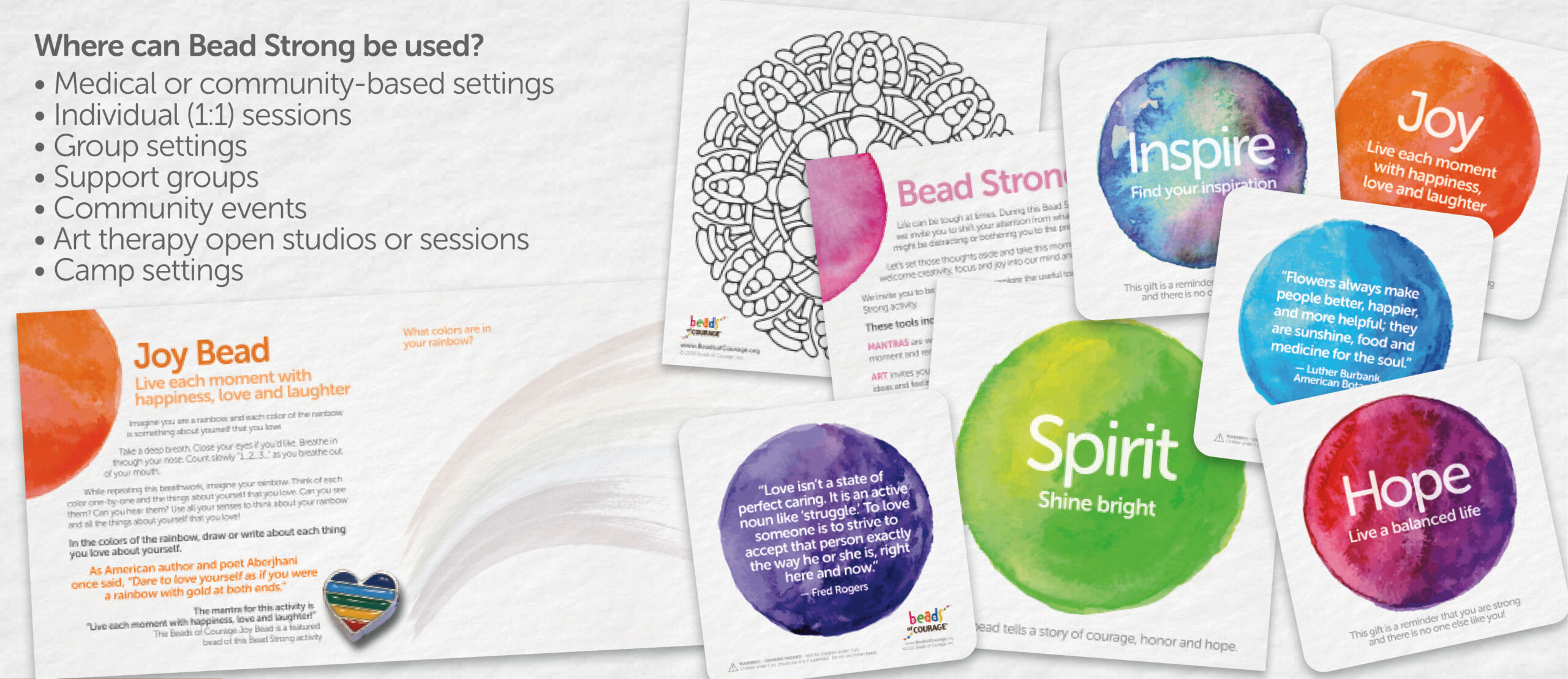 What's included in the Bead Strong Program?
Each activity was created by our expert program team. They include an art directive worksheet and a corresponding bead. The Bead Strong Bead is packaged with a card that includes the activity's mantra and an inspiring quote. The bead and card become a value keepsake that serves as a tangible reminder to regularly pause, remember the mantra, and breathe.
Virtual Bead Strong Workshops
The Beads of Courage program team is made up of skilled Child Life Specialists who facilitate this program virtually extending our supportive reach all over the country. Beads of Courage is looking for donors to sponsor this opportunity. There are 12 Bead Strong Activities to sponsor, each with their own unique mantra and experience. If you or your organization is interested in sponsoring our Bead Strong programming, please contact jean@beadsofcourage.org